There are no more items in your cart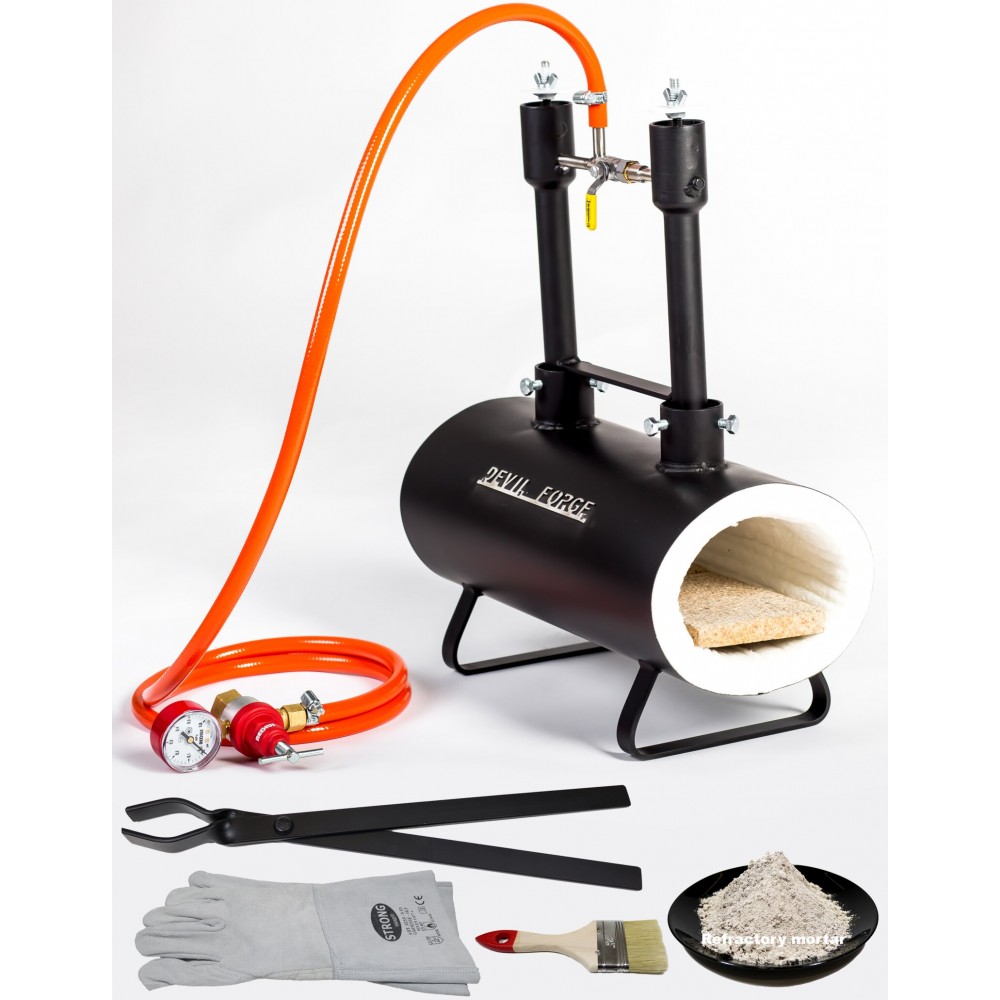  
Gas Propane Forge DFSW2
Forge with 2 Connected DFP (160.000 BTU) Burners
The interior dimensions (WxHxD) 6" x 4.8" x 16" (150mm x 120mm x 400mm). The height with firebrick is 3.2" (80mm)
Insulation: Fully lined with 1" / 25mm of ceramic blanket, this forge boasts outstanding insulation. The forge bottom is constructed with 20mm firebrick
The forge body is made of lightweight 21-gauge (0.8mm) steel
Experience Unparalleled Power with the Gas Propane Forge DFSW2 with Twin Burners (160.000 BTU). Designed to meet the demanding needs of blacksmiths, farriers, and knife makers, the Gas Propane Forge DFSW2 offers an exceptional combination of power and quality. Crafted with precision and engineered for portability, this forge allows you to take your craft anywhere while achieving temperatures of up to 2500°F / 1370°C.
Key Features:
Compact Yet Spacious: The interior dimensions (WxHxD) of 6" x 4.8" x 16" (150mm x 120mm x 400mm). The height with firebrick is 3.2" (80mm).
Superior Insulation: Fully lined with 1" / 25mm of ceramic blanket, this forge offers exceptional insulation. The forge bottom is constructed with 20mm firebrick, guaranteeing strength and durability.
Dual Powerful Burners: Featuring 2 Connected DFP (160.000 BTU) Burners. With individual gas valves, you can use either 1 or 2 burners, providing flexibility in your work. The burners are designed for longevity and optimal performance. The burner nozzle is crafted from robust 304 stainless steel with a 35mm diameter. There is a choke on top of our burner, which regulates the amount of air mixed with the propane during combustion. This allows you to achieve various pressures and higher temperatures. The operating pressure range is from 1 to 25 PSI. The distance between the centers of the burners is 200mm.
Versatile Fuel Options: Our burners are designed to operate with Butane, Propane, Butane + Propane Gas, and LPG. Please note that they are not compatible with Natural Gas.
Lightweight and Durable Build: The forge body is made of lightweight 21-gauge (0.8mm) steel, ensuring both strength and portability.
Forge Weight is: 16lb / 7kg
Maximum Safety: We prioritize your safety. Always use proper safety gear, including body, face, and eye protection when operating at high temperatures.
Gas Pressure Regulator: Our package includes a gas pressure regulator with a gauge featuring an Mpa monometer. The pressure range is 0-0.6Mpa (0.1Mpa - 1Bar - 14.5PSI).
Convenient Fitting: We offer 4 different gas pressure regulator connections, and one of these gas pressure regulators will be included in the package based on the destination country. To see fitting click here
Connection - POL CGA-510 fits for UNITED STATES, CANADA, SWEDEN, NORWAY, AUSTRALIA, NEW ZEALAND, ISRAEL

Connection - G 5/8" UK POL LH fits for UNITED KINGDOM, IRELAND, SOUTH AFRICA

Connection - Shell DIN external thread to - W21.8 x 1/14" LH internal thread (Left thread) fits for GERMANY, FRANCE (AND MOST EUROPEAN COUNTRIES)

Connection - W20 x 1/14" LH fits for ITALY
Swift Delivery: Anticipate your order arriving within 5-8 business days in the USA and Canada. In the European Union, delivery typically takes 3-7 business days. For other countries, please allow 5-12 business days for delivery. We dispatch packages using trusted courier services including FEDEX, UPS, DPD, TNT, GLS, and DHL.
Comprehensive Package: Our package includes everything you need to get started:
Gas Propane Forge model DFSW2

2 Connected DFP (160.000 BTU) Burners

Firebrick

Tongs

Heat Resistant Gloves (glove appearance may vary)

Gas pressure regulator, gauge with manometer

6.5ft / 2m gas hose

2 Clamps

Refractory rigidizer (powder)

Brush

User manual
Important Note: The included refractory rigidizer must be applied before use. Its application enhances the durability of the ceramic insulation, providing extra strong protection.
Elevate your metalworking craft with the Gas Propane Forge DFS. It's more than a tool; it's your partner in precision and creativity. Order yours today and experience the difference.
---
Explanation Table: Gas Burner model DFP
BTU/Hr: burner power

PSI: gas pressure from the gas pressure regulator
ATM: Gas pressure from gas pressure regulator (in Atmospheres). 1ATM - 1.01Bar - 14.5PSI

PSI: Gas pressure from gas pressure regulator (in Pounds per square inch). 1PSI - 0.06ATM - 0.068Bar

BTU/Hr: British thermal unit per hour. 1 BTU/hr = 0.00029307107 kW

LBS/Hr: Pounds per hour. 1 lbs = 0.45359237 kilograms

Kg/Hr: Kilogram per hour. 1 kilogram = 2.20462262 lbs

KW/Hr: Kilowatt per hour. 1 kW/Hr = 3412.142 BTU/Hr
---
16 other products in the same category:

Customers who bought this product also bought: